Mobile screening station
Dongmeng series mobile heavy screening station is equipped with heavy vibrating screening equipment, which can not only work together with the primary crushing station, but also act as separate stripping screening, which can screen up to three finished products.Intelligent wireless remote control crawler walking technology is adopted, and the upper and lower flatbed trailer can be operated remotely by a single person, which can realize the shift operation quickly.
Applications: Building materials, mining, stone industry, cement and other industrial departments. Capacity: 100-500t/h Feeding size:≤500mm Scope Of Application:Gravel screening for material recycling, coal mine and aggregate screening.
Product introduction
Due to its optimized unique dynamic design and intelligent process control system, Dongmeng Mobile Screening Station obtains robust, stable and reliable high-performance screening capability. It is the ideal choice for many independent screening or multi-stage mobile crushing screening processes.
Equipment application:
1. Widely used in screening operations in various crushing and screening processes;
2. Screening materials in quarry and mining yards and screening aggregates in crushed asphalt and concrete mixing stations;
3. Construction and demolition waste, such as house demolition, screening and recycling of road concrete;
4. Screening of river pebble, Gobi beach sand and gravel, coal mine, surface soil and other industries.
Product Characteristic
1. Adopt remote intelligent wireless control, walking on the track by itself without the crane, it can up and off the trailers through the intelligent remote control to directly realize the long-distance transportation and transition work.
2. The vibrating screen can be lifted and lowered by hydraulic pressure, which is convenient for maintainence and replacing the sieve and convenient for transportation;
3. The screening machine can screen up to 4 kinds of (three-layer sieve) final products, and each finished material conveyor belt can be hydraulically folded to realize the whole machine transportation;
4. Optimized by dynamic design, with high-performance screening capability, it can be operated independently or coordinated by multiple sections of Dongmeng Mobile series process;
5, It is a complete screening system before delivery from factory, which can be quickly put into production without installation and debugging
6. Dongmeng Heavy-duty Screening Machine can select the plate feeding system according to the needs of customers to achieve the screening efficiency of special materials.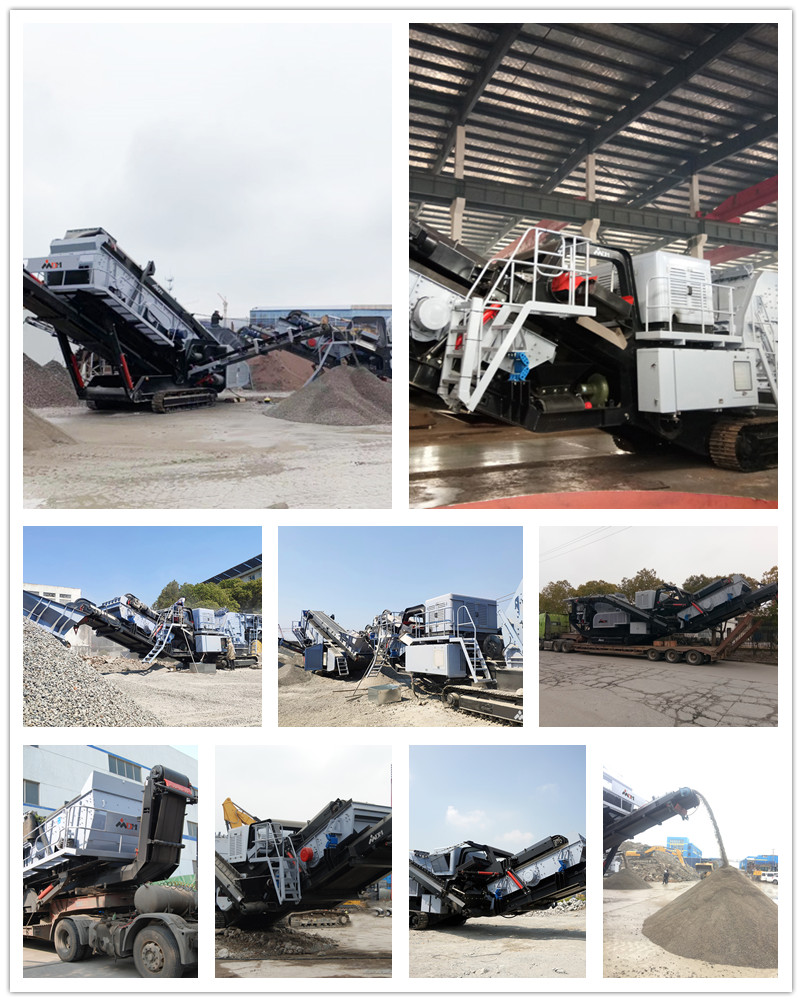 Specifications - Technical Data
Model
DMS620C
Feeding Equipment
Capacity(t/h)
450
Hopper Volume(m3)
2.5
Feeding Belt Conveyor
L×W(mm)
11800*1000
Feeding Height(mm)
2500
Motor(kw)
11
Vibrating Screen
Screen Size L×W(mm)
6000*2000
Decks
2(3)
Motor(kw)
22(30)
A-Belt Conveyor
L×W(mm)
7500*650
Unloading Height(mm)
3200
功Motor(kw)
4
B-Belt Conveyor
L×W(mm)
5600*650
Unloading Height(mm)
3200
Motor(kw)
4
C-Belt Conveyor
L×W(mm)
7000*650
Unloading Height(mm)
3100
Motor(kw)
4
D-Belt Conveyor
L×W(mm) Motor(kw)
8000*800 5.5
Unloading Height(mm)
3760
E- Belt Conveyor
L×W(mm)
2000*650
Motor(kw)
3
Whole Plant
Driving Motor(kw)
87
Total weight(t)
31
Capacity(t/h)
180-450
Size L×W×H(m)
17.3*3.4*3.8
External Power(kw)
61.5